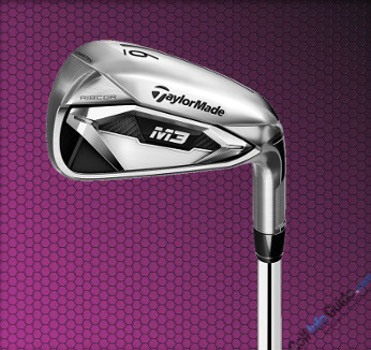 Photo Packaging Product Credit: ©TaylorMade Golf
The Taylormade M3 Irons retail for $999.99 and they're built and designed to appeal to a wide spectrum of golfers looking for forgiveness and distance in a sharp-looking and compact package. The new M3 irons offer increased distance compared to the previous M1 generation, and they're all about distance and forgiveness, combining a cutting edge look at address with TaylorMade's latest and greatest technologies, which include the well known Speed Pocket on the sole, composite materials in the back and Face Slots on the club's face. However, it must be noted that even if the M3 irons are aimed at delivering distance and forgiveness better than ever before, they are simultaneously retaining workability and accuracy due to their compact head shape, which is often preferred by better players.
All the technologies incorporated into the Taylormade M3 Irons are optimized to provide height, accuracy, distance and forgiveness. The redesigned off center Inverted Cone works together with the Face Slots and the ultra thin face, so now the face flexes symmetrically, thus helping controlling left to right bias. Also, the company's latest RIBCOR technology (a patented internal ribbing structure) works wonders in terms of stiffening the body and giving the face more stability, while helping with maximizing the energy transfer to the ball at impact. The badge of the Taylormade M3 Irons is made using a composite material in order to dampen vibrations during impact, thus improving both sound and feel. Finally, the sole of the Taylormade M3 Irons now features 15 grams of high-density tungsten weight, which allowed the engineers to build a more compact head-shape while keeping the ideal properties required by a state of the art iron: a high moment of inertia and a low center of gravity. Bottom line, if you're a low to mid handicap golfer looking for a set of cast cavity back irons, you should give Taylormade M3 Irons a try, especially if you've enjoyed last year's M1s.