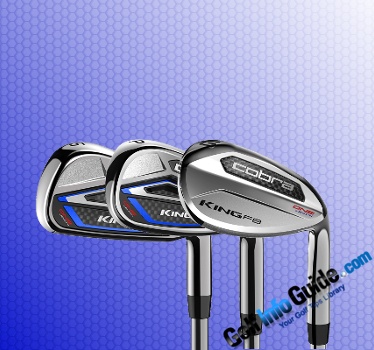 Photo Packaging Product Credit: ©Cobra King Golf
The Cobra King F8 One Length Irons retails for $799 (MSRP) and they're built and designed to deliver long, towering shots together with a superior feel, as they're focused on improving your game and also making for the first ever set of irons made by the company to feature Cobra Connect Technology. The Cobra King F8 One Length Irons set's 4 to 7 irons feature a faster PWRShell face, which is aimed at increasing ball speeds, a hollow head and a lower center of gravity, which provides higher launch and less spin/gain.
The shorter 8-PW heads feature cavity backs, but they also come with the carbon medallion in the rear, similar to the longer irons, to enhance sound. In order to lower the center of gravity, the F8 One Length irons were designed with a wider sole, which also increases the launch and promotes a more upright lie. One of the most interesting features of the Cobra King F8 One Length Irons set is that you can pair them via the (free of charge) Cobra Connect app with your smartphone, thus being able to track your performance in real time, hence to learn from your mistakes. All the irons in the set incorporate Cobra's patented technology TECFLO, which allowed the company to manipulate the weight to 7 iron specs, while keeping the look/design of a regular iron, thus delivering some of the most advanced One Length irons to date. The wider sole widths paired with progressive hosel lengths in the 4-6 irons promote improved trajectories, while the latest gen E9 PWRShell face technology makes for a thinner (by 20 percent) forged face. The company's proprietary E9 elliptical Sweet Zone technology delivers unparalleled forgiveness and distance by promoting faster ball speeds across the face. Finally, the Carbon Feel Technology inserts deliver a soft yet solid feel in all irons in the set, and the carbon fiber medallions work great at dampening vibrations, thus enhancing sound and feel.