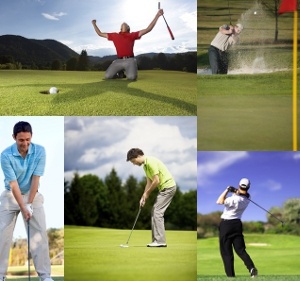 There are almost as many golf tips, and lessons for improving your golf game as there are websites on the Internet. We've collected the most helpful, easy-to-understand golf tips, and placed them into the lesson categories below.
Beginner Golf Tips: This lesson section provides the fundamentals that all beginner golfers should know before hitting the links
Golf and Your Health:Can playing golf make you healthier? You bet. This section examines the benefits spending time on the course.
Golf Drills: These simple drills are designed to instill correct fundamentals and help you fix swing flaws quickly.
Golf's Greatest Teachers: You can learn a lot by studying the instructors behind the game's top professionals. This series explores the methods employed by golf's famous swing gurus.
Golf in the USA:In many ways, the U.S. is the center of the golf world. Read all about America's contributions to this ancient game.
Golf Stretches: This section will help to better improve your game, and your flexibility.
Learn the Mental Side Of Golf: Do you find golf frustrating? Nerve-wracking? Intimidating? These tips will help you overcome the game's toughest mental hazards.
Playing Advice: Learn how to adapt to golf's many variables, including wind, tall grass and trees.
Pro Signature Move: This section features pros' that have  a golf swing with at least one quirky element that defies convention.
Pro Signature Shot: How do the pros hit those amazing shots? This series reveals their secrets – and explains how to make these shots your own.
Pro Golf Swing Sequence: Contrary to popular belief, not all pro golfers swing alike. These articles identify their individual secrets and tell you what to emulate – and what to avoid.
Senior Golf Tips: Don't let age slow you down. This section features tips for senior golfers.
Setting up Your Shot: This section features tips on aiming golf shots, addressing the ball, gripping the club, positioning the ball and other actions that take place before you swing.
Swing Stick Golf Tips: This is a full dedicated category section on golf info guide called "Golf Alignment Rod Sticks" New Golf Tips and drills using so called alignment rods, tour sticks, or canes to help improve your golf game.
The Golf Swing: Read tips on coordinating your body, the club's positions during the swing, how to play specialty shots and more.
Watching the Pros: Which pros do it best, and – most importantly – how to apply their methods to your game.
Women Golf Lessons and Tips: More women than ever before are venturing into the world of amateur golf.
Bunker Golf Tips: Learn the basics of sand play, understand the rules governing bunkers and develop advanced skills with the lessons in this section.
Golf Questions & Answers: Golf can be a confounding game. We've got in-depth answers to the most common questions posed by everyday players.
Left Handed Golf Video Tips: Golf-Info-Guide.com presents free golf video tips for left-handed golfers and learn how master the game of golf.