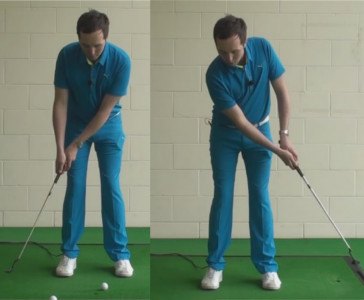 The key to good putting is to make sure the golf ball rolls smoothly when you stroke it.
---
---
A bad action will cause the golf ball to jump when being struck. This leads to the golf ball deviating off line as the ball hops and skips across the putting green. A good putting action stays smooth and rolls true across the putting green and does not deviate off line, so has a much better chance of heading into the hole.
Fault - If the putting action changes rhythm during the stroke, the golf ball can fire off the club face, or on the other hand, can trickle off the face with no power. The main reason why this happens is the fact the backswing and the follow through are different lengths and happen at very different speeds as a result.
Fix - To promote the best possible ball roll, the stroke must be smooth and slightly upward hitting on the golf ball. To help hit slightly on the way up, the golf ball should be placed just in front of the middle of your stance. In order to promote the best tempo and rhythm during the stroke, it is important that the backstroke and follow through are symmetrical to each other.
Key practice tip - The best way to help with the consistency and speed of your putting stroke would be to practice with or imagine using a metronome set at 80 beats per minute (BPM). A metronome is a device that produces regular, metrical ticks, beats or clicks - settable in beats per minute. These ticks represent a fixed, regular aural pulse. You can purchase a metronome or download an application on to your 'phone. The idea is to practice your stroke to the same 80 BPM beat as the metronome keeps the backswing and follow through the same length. Once you have practiced the stroke without a golf ball using the metronome, move on to hitting some putts with a golf ball along the putting green, not really worrying about where the golf ball goes, just aiming to keep the tempo and the rhythm the same as the metronomic stroke.
---
---
Top tip - When getting ready to take your putt, aim to make two or three rhythmic practice strokes as close as you can to actually taking the real shot. This way the rhythm and tempo is fresh in your mind ready to do the same when it comes to the real putt.