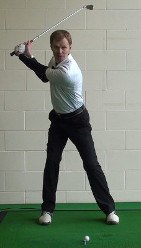 The golfer who's eager to improve can get help from many sources.
For those who don't have time for one-on-one lessons with a PGA professional, resources like Golf-Info-Guide.com make an excellent substitute. Take notes as you read the tips and watch the videos, then practice what you've learned on the Driving Range Tips. In fact, you can practice many of the tips and drills in your home or back yard. For example, all you need is a mirror to work on your golf stance and posture.
It's also a good idea to research good instruction books, manuals, and magazines. Search online for material that is well reviewed and if you get a chance, ask more experienced players about some of the resources that they've used. If you can, though, avoid trying to teach yourself golf without any guidance. Many self-taught golfers develop bad habits, which can prove difficult to get rid of. It's much easier to start with a solid swing foundation than to correct bad habits later on.
It's usually best to decline on-course lessons from your friends, too. First off, the course isn't the place to try new things; that's what the range is for. Second, just because something works for their game doesn't mean it will work for yours. It's OK to accept occasional advice from a friend who's a very good golfer and/or highly knowledgeable about the swing, but laying the groundwork for a sound swing is best done with professional help.
Remember, too, that after you've taken lessons to not rely completely on the instructor to make you better. You still must continue to work on the swing thoughts that have proved helpful before you will start to see the improvements you're looking for.
Tips for Golf Lessons:
Read online reviews on local PGA-certified professional teachers.
Many pros offer group lessons at discounted prices, and keep your eyes open for free clinics.
Take notes from online tips and videos, then take them to the range to reference while practicing.