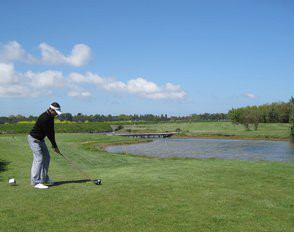 Once you've spent some time on the driving range and feel ready to graduate to a full golf course, there are several factors to consider. It is crucial to understand that not all courses are created equally. Private courses are exclusive to paying members, while public courses are open to all golfers of any skill level.
Your best bet starting out is to play a shorter course that isn't very difficult. You'll also want to play when the course is less crowded, such as early morning or later in the evening. This gives you the freedom to play at your own leisure while getting used to the game.
It's easy to get frustrated when you first begin playing, and the frustration will only be compounded if you feel rushed. If other golfers are waiting behind you, don't hesitate to let them play through (meaning you step aside while they hit their shots and move ahead of you). It's not an official rule, but it is commonly considered correct etiquette for slower golfers to let faster golfers pass. They'll appreciate the gesture, and you'll alleviate any pressure from playing in front of others.
You should also consider starting on a par-3 or "executive" golf course. These are much shorter than a regulation course, making them easier and quicker to play while still helping you develop skills needed for the real thing. For many par-3 courses, where most holes are less than 200 yards long, all you need is a putter and a few irons. In fact, playing shorter courses will help improve your chipping and putting tremendously. An executive course typically features 10 to 13 par-3 holes, with the rest being par 4s. The advantage is that you can hit your driver a few times without getting overwhelmed by a series of long and challenging holes.
Once you feel comfortable on a short course, you're ready to take on longer and harder ones.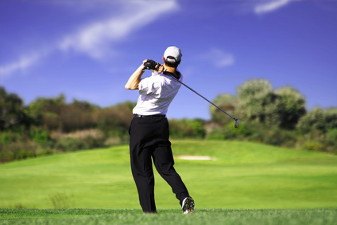 Tips for Picking a Course:
Look online for a par-3 or executive course for a quick, fun, no-pressure experience.




Call your local course or golf shop for advice on the best times and places for beginners to play. They'll be happy to help.




Once you're on the course, let other players play through if they're waiting on you.