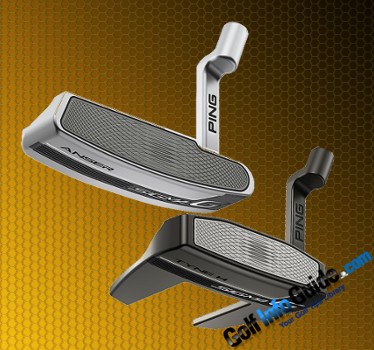 Photo Packaging Product Credit: ©Ping Golf
The Ping Sigma G Putter can be best described as the sum of all the company's technology put into one piece of golf gear. The Sigma G putter comes with an anodized aluminum-made face placed in front of a resilient yet soft elastomer insert, the same material which is regularly found in the midsoles of running shoes. The Sigma G putter will impress at first sight due to its premium look and feel, and it's built and designed for unparalleled distance control from long range. Considering the fact the Sigma G putter range consists of 16 distinct models, it's almost certain you'll find one that's going to suit both your stroke type and your eye.
Regardless of which model you'll settle for in the end, let's see about the technology within these babies. What's new and awesome about Ping's new line of putters is the aforementioned PEBAX (that's Ping's patented technology) elastomer insert, placed in a face cavity, right behind the anodized aluminum face (6061 aluminum). This particular design is focused at promoting a soft feel, while preserving ball speed, and Ping did a great job in this regard. There's a caveat about the Sigma G insert, and I am talking about a slight hollow feel upon ball impact. However, this is a pretty good insert, especially for golfers who value sound as a measurement of feel. The Sigma G putter's face also boasts the latest gen TrueRoll face-grooves, which are aimed at minimizing ball speed loss on mishits. The TrueRoll grooves are a field-tested/comba-proven technology, tried and trusted times and times again by myriads of golfers. I particularly appreciate the fact that the PEBAX insert goes across the full width of the putter's face. Overall, the Sigma G range of putters from Ping makes for a great combo of size and feel, which provides golfers of all skill levels with a solid range of putters, that look awesome while boasting an innovative, high tech and very efficient face insert.