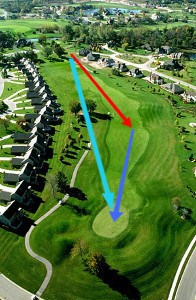 Most dogleg holes feature a hazard of sand, trees or water on the inside corner (i.e. the right corner of a dogleg right, and vice versa). If you automatically aim away from the hazard every time, you're foregoing a chance to capitalize on the hole's strategic design. 
The straight line from tee to green is, of course, the shortest route, meaning that a shot directly over a hazard on the inside corner will set you up with a shorter shot to the pin. Playing away from the hazard may seem safer, but it leaves you farther from the ultimate target – and on big-bending doglegs, much farther. 
Make a point to check the carry distance over these hazards before teeing off on a hole. If the yardage needed to carry is well within your range, and conditions (i.e. wind) favorable, aim directly at or very close to the hazard. 
For example, let's say your average carry distance* with the driver is 220 yards, and you need only 190 to fly past a fairway bunker. That's easily doable with an average shot, and even an off-center hit stands a good chance of covering the needed distance. Trees require flying the ball farther that their actual distance, so always account for their height. 
Even if you're not inclined to risk a shot straight over the trouble, taking a line just inside of it will leave a shorter approach than a drive that finishes well wide of the hazard.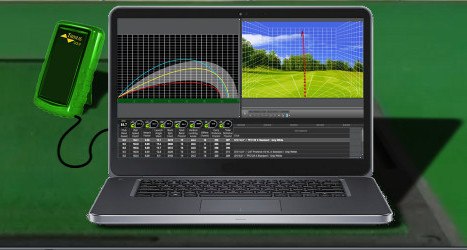 What's more, many holes are designed so that the closer you drive to the hazard, the less trouble you'll face on the approach. Drive away from danger and you'll likely face a second shot that must carry sand or stop on the green's narrowest section. 
*Make sure you know how far your typical drive flies in the air, not the combined carry-and-roll distance. A launch monitor offers the most dependable means of testing this vital datapoint.