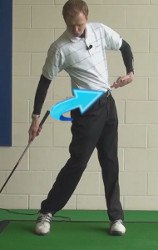 He's listed by the PGA Tour at 5'11" and 190 pounds, but Robert Garrigus looks bigger than that. He certainly plays bigger.
---
---
The veteran pro has ranked among the Tour's top four in driving distance every year since 2006, leading the standings in 2009 – when averaged a prodigious 315.5 yards per drive -- and again in 2010.
The rest of Garrigus' game is aging nicely, too. At 34 years old, he's enjoyed his best season yet in 2012, ranking 25th on the money list heading into the Tour Championship. While his lone victory came at the 2010 Children's Miracle Network Classic, he's knocked on the door often, with three runner-up finishes in 2012.
Let's take a look at how Garrigus generates such outrageous distance off the tee.
Garrigus' signature: Massive body rotation on the downswing and through the shot.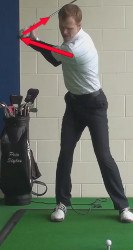 Who else does it: Dustin Johnson, Gary Woodland
What it looks like 
Unlike most big hitters, Garrigus does not take the club to a parallel position at the top. His wrists are held firm, with the clubface slightly closed relative to the target line. From there, though, his power is really unleashed.
On the downswing, Garrigus works his left hip and knee furiously toward the target, with the right side following in tow. His upper body unwinds with such force that Garrigus' head turns with it; less than halfway down, his eyes point to a spot well in front of the ball – highly unusual for a pro.
Reaching impact, Garrigus' hips face well left of the target – again, farther than most pros' – while his left leg begins to straighten Meanwhile, his right side continues turning and he explodes upward, into the ball. A number of bombers share this move, including Tiger Woods and Rory McIlroy.
Garrigus' right heel rises noticeably off the ground as the club approaches impact, and he's up on his right toe at the finish. However, he exhibits much "quieter" feet when hitting iron shots, which require more control.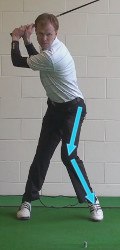 Why it works for Garrigus: Except for the length of his backswing, everything about Garrigus screams "power hitter," starting with his strong grip position. He pairs a full shoulder turn with a somewhat restricted hip rotation, creating what teacher Jim McLean dubs a large "X-Factor" – the difference between the degree of upper and lower body rotation. Like many of his big-hitting peers, Garrigus achieves great width by extending his hands far from his head as he reaches the top.
Like Johnson, Garrigus must compensate on the downswing for his closed clubface position at the top. His tremendous lower body rotation causes the clubhead to lag ever so slightly, preventing it from closing at impact. Otherwise, he'd hit massive hooks.
How it can work for you: Regardless of your size, you'll never maximize your power without properly rotating the hips and shoulders. Most importantly, the downswing must follow the correct sequence.
If you've managed to make a full shoulder and hip turn going back, you're halfway there. That good work can come unraveled, though, if you start down with the hands and arms. Instead, the left heel initiates the downswing by pressing into the ground. This touches off a chain reaction in which the hips, torso and shoulders act in unison to pull the arms and club downward into the ball.
Watch this video tip to learn How to Trigger the Downswing.