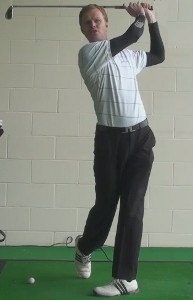 After his stellar career at Northwestern University, there was never much doubt Luke Donald would do great things as a professional golfer. The Englishman has fulfilled expectations and then some, rising to No. 1 in the World Golf Ranking in 2011 while finishing as the leading money winner on both the U.S. and European tours – an unprecedented feat.
While Donald has yet to claim a major championship (as of mid-July, 2012), he's threatened several times and seems destined to eventually break through. At age 34, his best years may yet be ahead.
Donald's calling card is an extraordinary short game centered on deadly putting. But his silky smooth swing draws plenty of oohs and ahs from appreciative fans and swing analysts. Let's break down Donald's classic action.
Donald's signature: Perfectly balanced finish with hands high over head.
Who else does it: Stewart Cink, Payne Stewart
What it looks like 
Many modern players finish with the arms bent over the shoulders in what's called a "low and around" position. Not Donald. He could easily pass for one of the stars of an earlier era – think Ben Hogan – with his arms extended and the club held above or just behind his head. Donald is beautifully balanced, too, with his weight on the left foot, left leg straightened and his back gently arched. His chest points left while his belt buckle (e.g. his hips) face the target.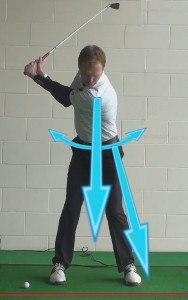 Why it works for Donald: Who cares what the finish looks like, right? What matters is the action that takes place up to the moment of impact. Ah, but there's your answer. You can tell a lot about a golfer's swing by his position at the end – and Donald is a perfect example. 
In order to finish on balance, you must swing that way, and Donald displays lovely balance and tempo from start to finish. Reaching the proper positions with the chest and hips requires the upper and lower bodies to be in-sync from start to finish. Donald excels here, too, with a full, 90° shoulder turn paired with about 45° of hip rotation at the top of the backswing; his hips then lead a seamless downswing sequence.
Finally, Donald's ability to maintain his posture and spine angle shine through at the finish. Notice the slight tilt in his upper body, which mirrors his posture at address and impact. His right shoulder is below the left as well.
Donald's swing isn't perfect; some analysts quibble with his considerable lateral motion on the backswing and downswing, and his arms move farther from the body on the downswing than what's considered ideal. But his mastery of key fundamentals is reflected in Donald's classic end-of-swing pose.
How it can work for you: Follow the links below to learn three separate drills designed to instill the basics that lead to a lovely finish: 
2)      Upper and lower body rotation