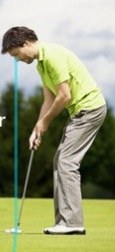 Aside from debilitating issues like shanked irons or sliced drives, three-putting
may be golf's most maddening malady. 
---
---
First off, let's separate out forgivable three-putts – those that occur when you've got 40 feet or more for your first putt, or severe slopes between your ball and the hole. Aggravating, yes, but acceptable. 
It's those three-putts from inside 25 feet that can drive a golfer crazy. Reasons for frequent three-putts vary, but often come down to poor speed – in other words, leaving putts well short of the hole, or hitting them far past it. 
Here's a drill to improve your feel: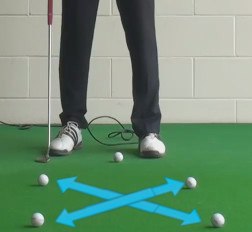 On the practice green, use four tees to create a small square (about two square feet).




From 15 feet away, putt until you've stopped three consecutive balls inside it.




Move another 3-5 feet away each time you successfully putt three straight balls into the square. 
Practice this drill on uphill, downhill and sidehill putts, as well as putts with both uphill and downhill segments. Remember, on long putts, speed is more important than line.