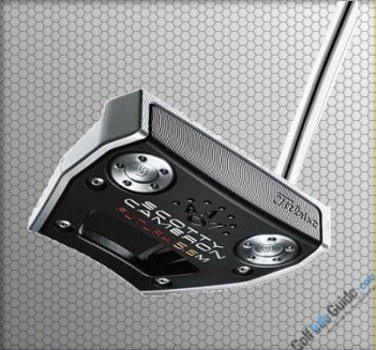 Photo Packaging Product Credit: ©Titleist Golf
The Titleist Scotty Cameron Futura 5.5M Putter retails for $410/$425 (Dual Balance) (MSRP), and it makes for a very interesting piece of golf gear: at address, the Scotty Cameron Futura 5.5M looks like a mallet, yet it swings like a blade. That's due to the putter's blade-like natural balance, which is achieved by combining a compact mallet-head with a neck configuration that compliments golfers with arcing putting strokes. As with previous Futura putters, the Scotty Cameron Futura 5.5M is built using multi-material/composite technology and a wrap around face sole design, milled from aluminum and integrated with milled stainless steel.
The face sole piece is made using 6061 aluminum, to provide a soft feel, while the shell and back bumper are built from 303 stainless steel, thus increasing forgiveness. The look is somewhat industrial, which I personally like, and the finish is superb. This putter rolls the ball true, making distance control effortless and providing excellent feel, weighting and overall performance.