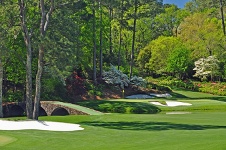 When golfers think about course management, they typically focus on tee-to-green strategy – when to hit less than driver from the tee, where to lay up on a par 5 or how to handle a difficult pin placement. But course management is no less important when you're on or near the green. 
Professional golfers' short games are extremely refined, so they mostly try to get their chips, bunker shots and long putts as close to the hole as possible. In fact, they're often thinking "make it" while standing over these shots. 
Even so, the pros know that some hole locations are not to be trifled with. Sometimes, even the world's finest golfers are happy with results that don't earn a big cheer.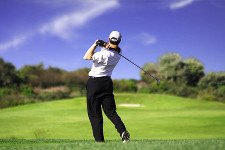 It's a widely known fact that putting accounts for about 40 percent of all shots in a given round, regardless of skill level. For amateurs, the next biggest share comes from within 50 yards of the green. In other words, the short game is the most important aspect of golf. 
Good technique is essential to excelling here. But you can also shave strokes by making smart decisions on greenside shots as well as long putts. There are many lessons to learn by watching pro golfers. 
In this case, it's not so much who as what. For example, take note of how the pros: 
Always get short putts to the hole: How often do you come up short from inside 5 feet? For the pros, the answer is next to never. From this distance the idea is to make it, every time.
Try to hole out easy chips: In general, pros miss greens in spots that leave them a good chance to get up-and-down for par. (That's part of good tee-to-green course management.) They think about straightforward chips much like putts – an opportunity to sink it for birdie. Rather than baby the ball toward the cup and hope to get it close, they'll make a firm, aggressive stroke.
"Bail out" on tough chips, pitches, bunker shots and putts: The pros are magicians around the green, but sometimes there's no rabbit to pull from the hat. Rather than attempting a miracle, they'll take their medicine, chip safely on and two-putt, thus averting a potential big number. You'll see a similar approach on long putts with a lot of break.
Play the percentages: Many greenside situations offer different options. For instance, hitting a high shot that carries most of the way to the hole, or a low shot that bounces and rolls. Usually, pros will play the shot they're more likely to hit well, instead of the one that requires perfect execution to achieve a spectacular result.
Leave the ball below the hole on fast greens: When watching the Masters, notice how the pros seldom leave a chip or long putt above the hole. Sure, they want to get close, but they don't want to face a downhill 4-foot putt for par. Sometimes, it pays to be cautious. 
Follow these tips to manage the greens like a pro: 
Be aggressive near the hole: Putt fearlessly when you're within 5 feet of the cup. In other words, don't worry about knocking the ball a few feet past and facing another knee-knocker. If short putting is that much of a struggle – and it is for everyone at one time or another – spend some time working it out on the practice green.
Think about holing simple chip shots: Few moments in golf are as exciting – or as momentum-building -- as a chip-in. If you can play aggressively without risking a tough, downhill putt, take dead aim when you're closer than 30 feet.
Play to the spot you want to putt from: Sometimes, thinking "get the ball as close as possible" isn't specific enough. If the greens are especially fast, you're better off with a 5-foot putt uphill than a 3-footer downhill. Aim for the spot that gives you a makeable putt.
Hit the shot you're most comfortable with: If you've got two or more options for playing a chip or pitch, choose the shot you feel confident in hitting well. If you have a hard time playing a high lob, for example, hit a lower shot instead – even if it means sacrificing the chance to get very close. By eliminating the more difficult shot, you'll reduce the risk of flubbing it and making a big number. 
Part I of this feature tackles the art of tee-to-green course management as practiced by professionals.