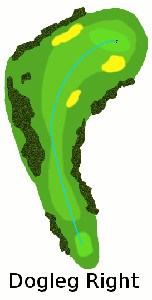 A dogleg is a par-4 or par-5 hole that curves left or right (and occasionally both) from tee to green. Designers build doglegs to introduce strategic elements that most straight holes lack. Understanding and identifying these strategic elements is the key to success on holes that dogleg.
---
---
Typically, trouble lurks on the inside curve of a dogleg in the form of rough, trees, water, sand or a combination thereof. Since this is also the shortest and most favorable line to the green, there's risk involved in driving down this inside path. 
On the other hand, the outside of a dogleg usually offers more room and less risk. But the golfer choosing the safe route will face a long second shot to the green. 
Handling doglegs involves weighing the hole's risk-reward ratio and knowing your own tendencies (slice or draw, for instance), then choosing the route that gives you the best chance of success based on these factors.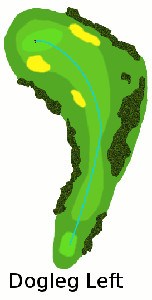 A couple of things to keep in mind:
---
---
In general, golfers fare best on doglegs that mirror their natural shot shape. So left-to-right doglegs favor left-to-right drivers, and vice versa.
Unless you can intentionally hit shots in either direction, it's best to stick with your normal shape at all times rather than forcing a shot you're unlikely to pull off.
---
---