Curious just how fast putts roll on your linoleum floor or synthetic putting green?
Want to know the speed of the surfaces on your home course? There's an app for that. It's called a Stimpmeter.
It's an ingeniously simple device – basically, a notched, V-shaped metal rail. The USGA sells its official Stimpmeter only to golf course superintendents or managers, so you'll have to obtain one through other means (such as an online auction site or retailer). You may also find instructions online for making your own Stimpmeter with materials found at any hardware store.
Some golf courses post their current green speeds on the Internet, in the pro shop or near the practice green. However, most courses make this info readily available. You can always ask for it, but you'll likely get a ballpark figure that may or may not be accurate.
Before we explain how to measure green speed using a Stimpmeter, note that course management may take offense if they see you checking the pace of their greens. Some clubs like to flaunt their greens as "the fastest in town," while those whose surfaces lag behind aren't necessarily dying for potential customers to know. In other words, green speed can be a touchy subject.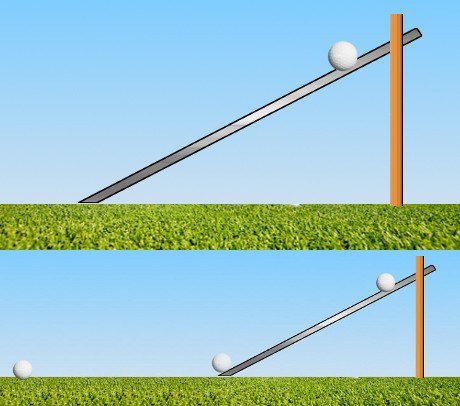 Moving on… The Stimpmeter is easy to use. Just follow these steps:
Find a flat portion of the surface being tested. It should be about 10' x 10'.
At the edge of the area, aim the bottom end of the device toward the area's center and place a ball in the notch; the Stimpmeter should lie flat on the ground.
Slowly lift the end closest to the notch until the ball is released. Hold the meter steady until the ball hits the surface.
Measure the distance between the ball's stopping point and the end of the Stimpmeter, then repeat the procedure twice more for accuracy.
The measurement, in feet and inches, is the Stimpmeter reading. For example, 10'6".
For comparison's sake, the greens on a typical public golf course "Stimp" at about 8 – 8.5". On the PGA Tour, greens are routinely 11' – 12', and sometimes 14' or higher for the Masters, U.S. Open and a few other events.