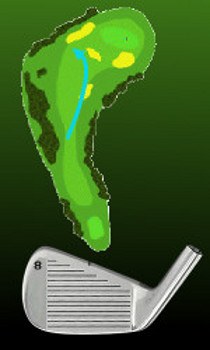 In basketball, the best teams tend to be those that get the most easy baskets. While their opponents are busy clanging 3-pointers off the rim, winning teams convert fast breaks into dunks and crisp passing into layups.
---
---
High-percentage shots are important in golf too. If you've ever heard a commentator mention that a pro had a "clean" round, that's what he's talking about. By hitting lots of fairways and greens, the golfer avoided trouble, gave himself opportunities for birdies and strung together a series of no-sweat pars.
While your scoring goals may be less lofty, you can still make life easier on the course by playing the percentages. Doing that requires having a good grasp of your own abilities, a willingness to play within your limitations, the awareness to recognize when a cautious approach is your best bet, and the attentiveness to account for hazards and trouble spots.
The first part, knowing what you're capable of, means having your club yardages down pat and owning a good sense of how well you play specific shots. For example, let's say your standard 8-iron flies 150 yards with a slight draw. What do you do if faced with a pin tucked behind a bunker on the green's right side? The smart golfer takes the hazard out of play, aims for the center of the green, knocks it on and either two-putts for an easy par or drains the birdie putt.
A golfer who doesn't heed his own shortcomings might take dead aim at the flag, put it in the sand and make bogey or worse. Don't be that golfer.
Sometimes, the seemingly bold or foolhardy shot plays into your hands. Using the same example, flip the flag to the green's left side, where it's guarded by a bunker. With your draw, all you've got to do is aim at the middle of the green and let your natural shot shape work the ball back to the pin. Your skill makes this a relatively low-risk approach.
Many players court big numbers when they fail to heed danger. How often do you "short-side" yourself on an approach shot, leaving little green to work with on a difficult chip? Instead of aggressively attacking a tucked flag, play to the fat of the green, two putt and stroll to the next tee.
Always play one shot ahead. On the tee, determine the best spot in the fairway from which to approach the green. From the fairway, find the safest place to chip or putt from and make that your "bail-out" area. Aim for the center of the green unless the pin is easily accessible.
Playing high-percentage golf doesn't mean playing timidly or with excess caution. It's all about recognizing opportunities and minimizing risk. Strive to play cleanly and you'll take a lot of the stress out of golf.