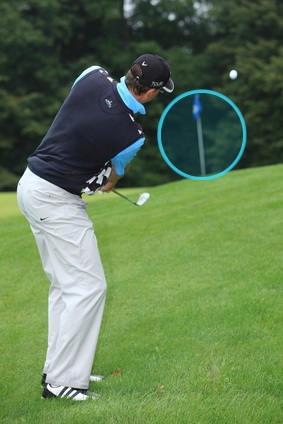 Do you know a "sucker pin" when you see one?
It's tucked behind a bunker or water hazard, or maybe perched on the tiniest shelf of a two-tiered green. Perhaps it sits at the bottom of a large slope, with trouble lurking dangerously close in the other direction.
Basically, a sucker pin is any location where the risk-reward equation doesn't add up in your favor. If you take dead aim at a sucker pin, there's usually a big penalty for a minor mistake. The flip side is, there's often plenty of room to play it safe. (Hence the term.)
Here's an example:
The flag is cut on the green's front right portion, just a few paces beyond a large bunker.
To reach the pin you must carry the bunker, with little room to land and stop the ball even if you succeed.
The center of the green lies left of the pin, and the front of the green is hazard-free. A shot to the "fat" of the green not only takes the bunker out of play (assuming you execute well), it leaves a putt of no more than 30 feet.
In other words, even if you pull off the hero shot, your chances of making birdie are only slightly better than if you play to the middle of the green. And the penalty for a miss is much, much worse. Only a sucker would take that risk.