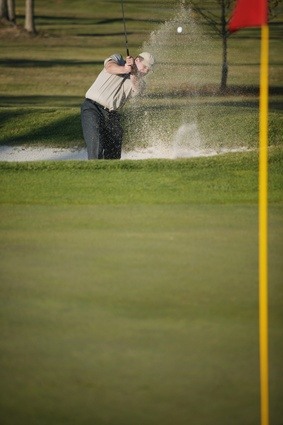 Most amateur golfers would rather visit the dentist than play from a bunker. Gripped with uncertainty, their thoughts swirl from one confounding question to the next: How hard should I swing? Do I hit the ball first, or the sand? How can I lift the ball over the lip?
Professionals, on the other hand, welcome a shot from a clean lie in the sand. Where their amateur counterparts hope to just get the ball out, pros aim to knock it close for a tap-in par. Quite often, they do exactly that.
Even so, pros get up-and-down from bunkers about 50 percent of the time, well below their average from outside the sand.
If the world's best players have only a 50-50 chance of getting down in two shots out of sand, what are your odds? Considerably less, of course. But that doesn't mean you shouldn't work on your bunker play.
The problem regular golfers face isn't an inability to save par, but the possibility of making a big number. Too many of us fail to escape sand on the first try – and sometimes the second and third. Even worse is the thin shot that sails over the green into bigger trouble.
You can save a lot of strokes simply by learning to get the ball onto the green consistently.
The biggest difference between pros and amateurs when it comes to bunker play? Pros accelerate through the shot, while ams decelerate. An accelerating swing not only powers the ball out, it creates the spin needed to make it stop on the green.
England's Luke Donald is brilliant from the sand, getting up-and-down about 65 percent of the time. K.J. Choi and Brian Gay are remarkably efficient as well.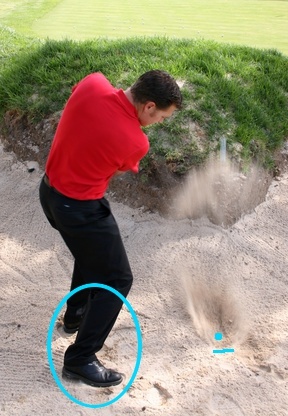 When pros assess a bunker shot, they pick a landing a spot on the green. Once in the bunker, they follow this procedure:
Dig feet an inch or so into the sand to provide stability and make sure the club hits behind the ball.
Open stance and clubface based on the desired height of the shot; more open equals a higher flight.
Swing with enough length and authority to assure the ball pops out.
Hit 1-2 inches behind the ball, with the club entering the sand on a shallow angle to prevent leaving the shot short.
Apply It to Your Game
The best approach is to keep things simple. Master the basic technique outlined above and you'll get up and out – without going too far – most every time.