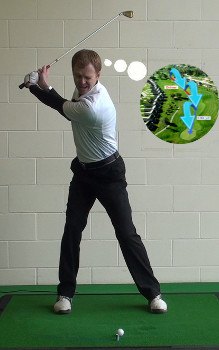 Have you ever been mired in a terrible round of golf, making one lousy swing after another, then hit a great shot out of the blue when faced with a near-impossible situation (up and over a tree, for instance)? You likely threw your hands up in a mixture of surprised joy and disgust, wondering where the heck that swing had been all day.
It was there all along, of course, just waiting for your creative side to bring it out.
When you're trying to extract the ball from a tough spot, your mind must visualize a way around the trouble. You naturally focus on the task at hand, freeing your brain from mechanical swing thoughts ("finish the backswing," "keep your head down," etc.). In other words, you've unwittingly adopted a "see ball, hit ball" approach.
So how do you transfer that mindset to routine tasks like tee shots, chips and putts, when the goal is more obvious and mundane? Again, visualization and creativity are key.
Pro golfers always picture the precise shot they want to hit before taking the club back – the trajectory, shape, roll and finish. This puts a positive image in the mind; the body then makes the motions needed to turn the image into reality.
What's more, if you're imagining the ball flying at the target, you can't simultaneously think about the mechanics of your swing. Before you know it, the ball will be sailing away.
Always visualize shots on the range and around the practice green. Before hitting each ball, picture the flight you want to achieve – a fade or draw, for example. The same goes for chips and putts; paint a mental image of the ball taking the break and diving into the hole.
It may seem too simple to really work, but just ask any professional. Visualization will unleash your creative side and suppress those voices chattering technical details.