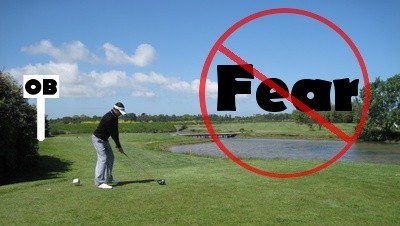 Of all the things that can destroy a round of golf, one of the most overlooked is fear.
Every golfer has felt its effects. On the first tee you take out the driver, spotting water on the right and out of bounds on the left. You become nervous at the prospect of failing in front of your peers, the fear short-circuiting your concentration and causing a tense, timid swing.
To be successful in golf you must learn to control your fear of failure. Try these tips to manage – if not banish -- those negative thoughts: 
---
---
Learn to "shape" shots left-to-right and right-to-left. This allows you to skirt trouble no matter which side of the hole it's on.
If your natural golf shot is a fade, aim down the left edge of the fairway (right-handed golfer) to use the entire width of the fairway. If you hit it straight, you wind up in the left side of the fairway. A fade finds the middle of the fairway, and a slice finishes in the right side of the fairway. Knowing your own tendencies can reduce your fear, before you even swing the golf club.
On tight holes with lots of trouble, use a fairway wood or hybrid instead of the driver. Downsizing to a shorter club with more loft increases accuracy and shrinks the fear factor.
Good course management involves sound assessment of risk and reward based on your skills. Forego shots that are beyond your ability to achieve; being comfortable with a decision keeps fear at bay.
Zeroing in on your target with aim and alignment priorities will help prevent negative thoughts.

Focus on the process of hitting the shot, not the potential results. Develop a consistent pre-shot routine and follow it every single time. This will keep your mind off the possible outcomes and on those things you can control.
Fear expands and creates tension if you stand still over the ball for too long. Keep your body moving with a one-piece golf club waggle, which prevents the arms and hands from getting rigid.
---
---
Next time you prepare for a difficult shot, simply say to yourself, "Have no fear." You'll be surprised how powerful you feel when facing up to your fears.