If you're trying to decide whether to purchase traditional, blade-style irons or game-improvement irons, here's a breakdown of each type's features, pros and cons: 
---
---
Blades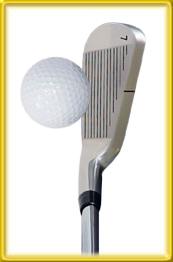 Pros:
Clean, classic appearance with thin top line and chrome finish
Superior feel on well-struck shots
Allow skilled golfers to easily shape shots (draws and fades)
Relatively high center of gravity (CG) produces penetrating ball flight; effective in windy conditions
Feedback on poorly struck shots can help diagnose swing flaws 

Cons:

Small heads can be intimidating to average and novice golfers
Less forgiveness on off-center hits, which may lose considerable distance and accuracy
Higher CG makes it more difficult to get sufficient height on shots with longer irons (3-5) 

Game-improvement irons 

Pros:

Larger head size instills confidence in achieving solid contact
Perimeter weighting creates larger effective hitting area, minimizing loss of distance and accuracy on mishits (i.e. more forgiveness)
Usually feature offset, which reduces pushed and sliced shots and makes it easier to turn the ball right to left (for right-handers)
Low CG produces higher ball flight, improves chances of getting good loft on longer iron shots 

Cons:

Skilled players often prefer look and feel of forged blades
More difficult to shape the ball due to clubs' shot-straightening qualities
Provide less feedback on off-center hits, disguising the causes and effects of poor swings
Low CG can make ball "balloon" in windy conditions, reducing control 
Of course, there are irons that combine the best of blade and game-improvement designs.
Thomas Golf's (For more information on Thomas Golf Irons:) offerings include custom-fitted, cavity-back irons with compact clubheads.