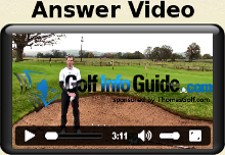 You're Correct!


A cape hole is one of the most dramatic and dangerous golf holes a player can encounter.
It features water down its entire length to one side with a slight curve in the fairway around the hazard.
---
The green often looks a long way into the water because it sits at the head of the curve. They are the epitome of risk vs reward. Course designers often shape the hole so either the perfect drive or approach shot over water is needed for optimal positioning.
There are a number of famous examples of cape holes at Doral (also known as the Blue Monster where the Arnold Palmer Invitational is held every year) and Pebble Beach including the 18th where the water hazard happens to be the Pacific Ocean!
There are two ways you can play a cape hole; either aggressively or safely. In most circumstances you need to avoid the dangers and play safe away from the water to the opposite side of the fairway and then green. However, if the match was on the line or you needed a birdie then taking on the shots may be the only option.
In general, cape holes are par 4s and give the golfer some bail out room away from the water. This safer drive normally leaves a longer approach to the green. Depending on the severity of the fairway curve hitting a shot to the safer side of the fairway will also open up the green for a safer approach shot. This safe approach should also be played away from the water, leaving a longer putt for birdie. Realistically, most golfers leaving a cape hole with a par should consider it a shot gained on the rest of the field.
If you need to make a birdie or play aggressively then relax, forget the water and fire at the pin. Playing aggressively on a cape hole will leave no room for second doubts, once committed there can be no turning back.
---
When playing a cape hole, take precautions and use good course management.
Sorry Try Again! - See Explanation Below
Although its tempting to go for the glory shot every time, golfers need to ensure they play the percentages. Hitting a ball over water or near water requires precision, confidence and control over shot shape.
Sorry Try Again! - See Explanation Below
Although safety is advisable, golfers should still have the confidence to take the hole at face value and go for a par. Using good course management increases the chance of making better scores, it shouldnt decrease it.
Sorry Try Again! - See Explanation Below
With the golf swing, trying to hold onto the club and steer the ball will only lead to disaster. Step up to the ball confidently, relax and let the swing flow as normal.