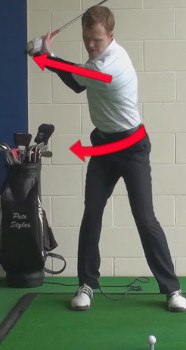 One of the areas of your swing that needs to be fine tuned in order to maximize distance from the tee is the backswing. Think of your backswing as being the foundation of the power that you are going to create. You obviously aren't going to hit the ball during the backswing, but it remains important for what is to come. Without a quality backswing it will be nearly impossible to strike your drives with authority and accuracy. Spend some time working on the technical aspects of your backswing and you should be able to pick up yardage relatively quickly.
The concept of 'loading' up your swing during the backswing is something that every golfer should understand. The ultimate goal of the backswing is simple – to position both the club and your body at the top of the swing for a great move toward the target. It is crucial that both of those elements come together nicely, as one without the other is useless. You need to put the club in the right spot at the top, and you also need to make sure your body is in a place that will allow it turn aggressively toward the target without losing balance. There are a lot of misconceptions around the game as to what should happen during the backswing, so make sure you have a clear picture of the important fundamentals before you start working on making improvements.
Remember, as you are working to add distance to your swing, that distance gains should never come at the expense of your accuracy. You will not be a better golfer if the only way to gain ten yards is to sacrifice some of the control that you have over the ball. It would be ideal to have both control and power, but control always needs to be the top priority. Feel free to work on improving the way you load up the backswing in an effort to hit the ball harder, but never forget that accuracy always trumps power when it comes to shooting the best possible score.
| Golf Backswing Lesson | Backswing Tip Type | Video | Article |
| --- | --- | --- | --- |
| Should Left Heel Lift On the Backswing | Lesson | View | Read |
| Should Left Heel Lift On the Backswing | Lesson | View | Read |
| How Should My Backswing Move Away From The Golf Ball For More Accurate Golf Putts | Question | View | Read |
| Right Hand Golf Tip: From the Top of your Backswing to a Full Finish Golf Swing | Drill | View | Read |
| Stop Your Golf Backswing Sway For More Power – Senior Golf Tip | Fix | View | Read |
| A Simple Drill For Connected Golf Backswing | Lesson | View | Read |
| Golf Backswing Plane, How Can I Tell If My Swing Is On Plane | Question | View | Read |
| Let Your Head Move on the Backswing – Golf Tip | Lesson | View | Read |
| Short Game Concepts For A Connected Golf Backswing | Lesson | View | Read |
| Top Of The Perfect Golf Backswing | Lesson | View | Read |
| Best Backswing Drill for Better Golf | Drill | View | Read |
| Cut Down On Your Golf Backswing Sway for More Power, Women Golfer | Fix | View | Read |
| Adjusting The Swing For A Long And Low Golf Backswing | Lesson | View | Read |
| Golf Pro John Daly: Extra Long Backswing | Lesson | View | Read |
| Lifting The Left Heel During The Golf Backswing | Fix | View | Read |
| Shorter Golf Swing Drill 4 Start down before you finish the backswing | Drill | View | Read |
| Top Three Tips On Pausing At The Top Of The Golf Backswing | Lesson | View | Read |
| How To Stay Connected And On Plane In The Golf Backswing | Lesson | View | Read |
| Executing The Correct Wrist Hinge In The Golf Backswing | Drill | View | Read |
| Allow Your Head To Move On The Golf Backswing | Lesson | View | Read |
| Golf Takeaway, What Is The Perfect Backswing For Great Iron Shots | Question | View | Read |
| Limit Backswing Sway to Increase Power, Golf | Lesson | View | Read |
| Should Left Heal Lift on Backswing, Golf | Fix | View | Read |
| Turn The Lower Body Before The Golf Backswing Swing Ends For Extra Power | Lesson | View | Read |
| Fixes To Help Stop Golf Backswing Sway | Fix | View | Read |
| Backswing in Golf, Should I Load Up Behind The Ball | Question | View | Read |
| Golf Wrist, Where Should Wrists Be At Top Backswing | Question | View | Read |
| Load Up Your Backswing to Increase Driving Distance, Golf | Lesson | View | Read |
| Should My Golf Downswing Start Before My Backswing Ends? | Question | View | Read |
| Two Good Options For Using Wrist Hinge In A Golf Backswing | Lesson | View | Read |
| Golf Backswing – How Much Should a Golfer take The Club Back | Lesson | View | Read |
| Beginner Golf Backswing Tips: How to Start the Takeaway? | Lesson | View | Read |
| Hit Longer Drives with this Backswing Golf Drill | Lesson | View | Read |
| Low And Slow for Connected Backswing – Senior Golf Tip | Lesson | View | Read |
| Shoulder Turn Sets The Stage For The Golf Backswing | Lesson | View | Read |
| Use This Drill To Get On Plane In Your Golf Backswing | Drill | View | Read |
| Golf Backswing Turn, Align Slightly Right for Better Turn | Fix | View | Read |
| Building Power And Speed In The Golf Backswing | Lesson | View | Read |
| Hold The Rear Leg Steady In The Golf Backswing | Lesson | View | Read |
| Low And Slow For Connected Golf Backswing | Lesson | View | Read |
| Shoulders Then Hips During The Golf Backswing | Lesson | View | Read |
| Using A Long And Slow Golf Backswing | Lesson | View | Read |
| Golf Swing Transition, Correct Backswing with Proper Coordination of Left Arm and Shoulder | Lesson | View | Read |
| Causes Of A Laid Off Backswing Golf Position | Fix | View | Read |
| Holding Your Stance Steady During Your Golf Backswing | Fix | View | Read |
| Low And Slow Is The Key In Your Golf Backswing | Lesson | View | Read |
| Signs Of Golf Backswing Sway | Fix | View | Read |
| Using Your Shoulders In The Golf Backswing | Lesson | View | Read |
| Hold Onto The Right Knee Position To Stop Golf Backswing Sway | Lesson | View | Read |
| Chicken Wing And Bent Arm During The Golf Backswing | Fix | View | Read |
| How And Why The Golf Downswing Starts Before The Backswing Ends | Lesson | View | Read |
| Change The Backswing To Get In To Out Swing Path | Fix | View | Read |
| Women No Backswing Golf Drill Can Help Fix Your Downswing | Drill | View | Read |
| Getting The Sequence Of The Golf Backswing Correct | Lesson | View | Read |
| How To Use Your Hips To Facilitate A Full Golf Backswing | Lesson | View | Read |
| Senior Tip – Making A Great Golf Backswing With A Straight Left Arm | Lesson | View | Read |
| The Importance Of Shoulder Turn During The Golf Backswing | Lesson | View | Read |
| Why Would You Lift The Left Heel During The Golf Backswing | Lesson | View | Read |
| Consider the Benefits of a Pause at the Top of the Backswing | Lesson | View | Read |
| Should Your Left Arm Stay Straight In The Golf Backswing | Lesson | View | Read |
| Golf Backswing Issues With The Low Hook Shot | Drill | View | Read |
| Let right arm bend at set to improve backswing rotation, Golf | Lesson | View | Read |
| Setting The Stage Of The Top Of Your Golf Backswing | Drill | View | Read |
| The Perfect Top Of The Backswing Golf Position | Lesson | View | Read |
| At What Point Should The Wrists Roll In The Golf Backswing Or Downswing | Lesson | View | Read |
| Cut Down On Your Golf Backswing Sway for More Power, Women Golfer | Fix | View | Read |
| A Simple Drill For Connected Golf Backswing | Drill | View | Read |
| Golf Backswing Plane, How Can I Tell If My Swing Is On Plane | Question | View | Read |
| Let Your Head Move on the Backswing – Golf Tip | Lesson | View | Read |
| Short Game Concepts For A Connected Golf Backswing | Lesson | View | Read |
| Top Of The Perfect Golf Backswing | Lesson | View | Read |
| Best Backswing Drill for Better Golf | Drill | View | Read |
| Executing The Correct Wrist Hinge In The Golf Backswing | Drill | View | Read |
| Adjusting The Swing For A Long And Low Golf Backswing | Lesson | View | Read |
| Golf Pro John Daly: Extra Long Backswing | Lesson | View | Read |
| Lifting The Left Heel During The Golf Backswing | Lesson | View | Read |
| Shorter Golf Swing Drill 4 Start down before you finish the backswing | Drill | View | Read |
| Top Three Tips On Pausing At The Top Of The Golf Backswing | Lesson | View | Read |
| How To Stay Connected And On Plane In The Golf Backswing | Lesson | View | Read |
| Fixes To Help Stop Golf Backswing Sway | Lesson | View | Read |
| Allow Your Head To Move On The Golf Backswing | Lesson | View | Read |
| Golf Takeaway, What Is The Perfect Backswing For Great Iron Shots | Lesson | View | Read |
| Limit Backswing Sway to Increase Power, Golf | Lesson | View | Read |
| Should Left Heal Lift on Backswing, Golf | Lesson | View | Read |
| Turn The Lower Body Before The Golf Backswing Swing Ends For Extra Power | Lesson | View | Read |
| Golf Backswing – How Much Should a Golfer take The Club Back | Lesson | View | Read |
| Backswing in Golf, Should I Load Up Behind The Ball | Question | View | Read |
| Golf Wrist, Where Should Wrists Be At Top Backswing | Question | View | Read |
| Load Up Your Backswing to Increase Driving Distance, Golf | Lesson | View | Read |
| Should My Golf Downswing Start Before My Backswing Ends? | Question | View | Read |
| Two Good Options For Using Wrist Hinge In A Golf Backswing | Lesson | View | Read |
| Golf Backswing Turn, Align Slightly Right for Better Turn | Fix | View | Read |
| Beginner Golf Backswing Tips: How to Start the Takeaway? | Lesson | View | Read |
| Hit Longer Drives with this Backswing Golf Drill | Drill | View | Read |
| Low And Slow for Connected Backswing | Lesson | View | Read |
| Shoulder Turn Sets The Stage For The Golf Backswing | Lesson | View | Read |
| Use This Drill To Get On Plane In Your Golf Backswing | Drill | View | Read |
| Golf Swing Transition, Correct Backswing with Proper Coordination of Left Arm and Shoulder | Lesson | View | Read |
| Building Power And Speed In The Golf Backswing | Lesson | View | Read |
| Hold The Rear Leg Steady In The Golf Backswing | Lesson | View | Read |
| Low And Slow For Connected Golf Backswing | Lesson | View | Read |
| Why Would You Lift The Left Heel During The Golf Backswing | Lesson | View | Read |
| Consider the Benefits of a Pause at the Top of the Backswing | Lesson | View | Read |
| Should Your Left Arm Stay Straight In The Golf Backswing | Lesson | View | Read |
| Golf Backswing Issues With The Low Hook Shot | Drill | View | Read |
| Let right arm bend at set to improve backswing rotation, Golf | Fix | View | Read |
| Setting The Stage Of The Top Of Your Golf Backswing | Drill | View | Read |
| The Perfect Top Of The Backswing Golf Position | Lesson | View | Read |
| At What Point Should The Wrists Roll In The Golf Backswing Or Downswing | Lesson | View | Read |
| Find Ways To Increase The Backswing Rotation | Lesson | View | Read |
| Henrik Stenson: Hips Shift Left Before Arms Finish Backswing | Lesson | View | Read |
| How To Start the Backswing- The Takeaway | Lesson | View | Read |
| How and Why: Downswing Starts Before Backswing Ends | Lesson | View | Read |
| Hovering The Driver At Address Reduces Tension in the Backswing | Lesson | View | Read |
| How long should my backswing be? | Question | View | Read |
| Setting The Stage In The Perfect Backswing | Lesson | View | Read |
| How Senior Golfers can Cure an Across-the-Line Backswing | Fix | View | Read |
| When to Best Start Wrist Hinge During Backswing Women | Lesson | View | Read |
| Practice with Wide Stance for Short, Powerful Backswing | Lesson | View | Read |
| Backswing Drill | Drill | View | Read |
| Where Is The Best Position To Start Your Wrist Hinge During Your Backswing | Lesson | View | Read |
| Backswing Swing Plane Drill | Drill | View | Read |
| Will a shorter backswing improve my accuracy? | Question | View | Read |
| Increase Your Swing Power – Backswing Length V Leverage And Rotation Lesson | Lesson | View | Read |
| Backswing Length Series by Tom Stickney | Lesson | View | Read |
| Build A More Controlled Backswing For More Consistency | Lesson | View | Read |
| Improve Your Backswing Takeaway | Fix | View | Read |
| Shifting Your Bodyweight In The Backswing Drill | Drill | View | Read |
| 3 Backswing Wedge Positions by Tom Stickney | Lesson | View | Read |
| Build A Big Backswing Rotation For Swing Speed | Lesson | View | Read |
| Common Problems For Senior Golfers Related To Connected Backswing | Fix | View | Read |
| Cure 2 – Finishing The Backswing | Fix | View | Read |
| Early Or Late Wrist Set During The Backswing – Which Is Better | Lesson | View | Read |