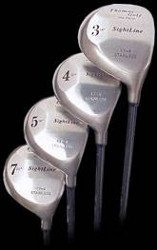 I am so happy with my purchase. Web sights don't always advertise the whole
truth. I certainly stepped out of the box when I decided to go with your
clubs. My investment was a great one. I have even added to my set with a new
#5 wood. My game has greatly improved. The builder of my set did a awesome job. Your clubs hit true and its a pure joy to play well. I have fun and great satisfaction when I play. I just wanted to share that with you. You make a great club. I for one "Thank You" for backing up your claims of
having a good product. That is rare these days.


---
---
Thanks again!! Mr. Jim
M from Oklahoma.