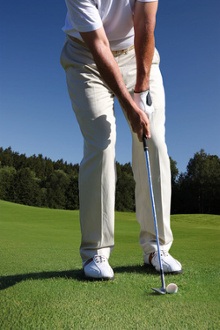 The towering drives draw oohs and ahhs, the laser-like iron shots elicit head-shaking awe, and the cross-country putts earn thunderous roars. It's those hole-tracking chips, however, that really set the pros apart. 
On average, PGA Tour players hit about 12 greens in regulation (GIR) per round. That leaves them scrambling for pars a third of the time. They convert about two-thirds of these attempts, meaning they get up-and-down on 4 of 6 missed greens. 
While the pros pull off plenty of miraculous escapes, their ability to execute the straightforward chips is more crucial to scoring. When they're less than 30 feet from the hole, pros get down in two shots better than 85 percent of the time. 
Considering the slope and speed of Tour-conditioned greens – much firmer and faster than the average golfer faces – that's pretty impressive. 
Low-handicap amateurs generally hit about 50 percent of greens in regulation; mid-handicappers are in the 20-30 percent range; those with handicaps above 20 might hit one or two greens per round. 
In other words, the short game goes a long way in determining your scores. 
No matter how good you are, there are certain spots on the course from which you're not going to get up-and-down. Buried in a bunker, for example, or stuck in a thick tangle of rough. But during every round, you'll face a few simple chips that could be called "routine" – the ones you expect to knock close for a tap-in putt. In baseball terms, these are like a ground ball hit directly at the shortstop, who should catch it and throw out the runner nearly every time. 
If you can consistently chip to gimme range, your scores will plummet. 
Two things you'll notice when watching the pros play simple chips. 1. They sometimes chip them in, and always come close, and 2. They rarely leave the ball more than two feet from the cup. 
The best of the best include Luke Donald, who ascended to the No. 1 world ranking in 2011 on the strength of his short game. Tiger Woods and Phil Mickelson rank among the best chippers of all-time, while Steve Stricker, Zach Johnson, Matt Kuchar and Aaron Baddeley are ruthlessly efficient.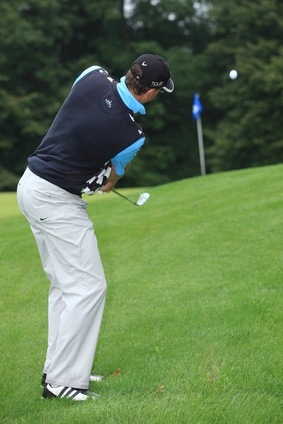 All pros read their chips just like putts, making careful note of the break and speed. They also assess the ball's lie when it's in the rough to determine which club to use and how hard to hit it. 
While many amateurs chip with wedges and hit the ball high in the air, professionals prefer to get the ball on the green and rolling as quickly as possible. That way, they can better control where the ball lands and concentrate on the speed and break. By hitting high chips that fly farther, you risk coming up well short or long unless you swing perfectly. 
On longer chips with lots of green to work with, many pros will choose a less lofted club (like a 6-iron) to keep the ball low and get it running. Practice this technique to get a feel for the ball's carry and roll. 
One more thing to note: All pros address chip shots with their hands ahead of the ball and the shaft tilted toward the target – just like a full iron shot. This creates a slight downward blow and adds control. Pros never "scoop" the ball to get it into the air, a problem that plagues many ordinary golfers. 
Apply It to Your Game 
Follow the pros' lead by focusing on these chipping fundamentals: 
Read the line and speed of each chip as you would a putt (just make sure to do it quickly so as not to slow your group's pace).
At address, make sure your hands are ahead of the ball; at impact, the arms and hands should return to this position.
Get the ball on the green and rolling as quickly as possible, rather than covering lots of distance through the air.
Don't automatically reach for a wedge on every chip. Consider using less loft when there's plenty of green between you and the hole.