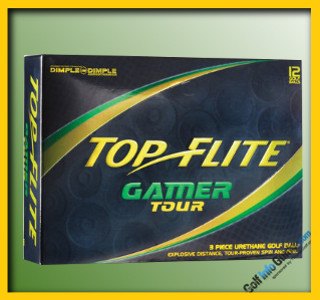 Ball tested: Top-Flite Gamer Tour
Category*: Premium
Feel: Firm
Tested for golfers with average driving distance of: 126 to 195 yards (carry + roll) / 196 to 245 (carry + roll) / 246 to 300+ yards (carry + roll)
Specs: Construction – Three-piece; Cover – Urethane; Core – Polybutadiene; Dimples / Pattern – 332 in "Dimple in Dimple" design
Compression: Mid
Price as tested (new): $24.99 per dozen
Ball notes: Simply put, Top-Flite's Gamer Tour model is essentially the Gamer model with a urethane (rather than ionomer) cover. Of course, that seemingly small distinction can make a big difference in performance.
The Gamer Tour is built with a high-resiliency core to an overall compression in the 80 – 85 range, so golfers with driver swing speeds of 80 – 95 mph should generate enough power to drive it farther than they can hit a high-compression "tour" level ball.
As for the cover, urethane is a softer material typically used on high-end models to enhance feel and spin. Top-Flite's "Dimple in Dimple" aerodynamic design, similar to Bridgestone's "Dual Dimple" setup, is engineered to maintain spin at the ball's flight apex, boosting hang time.
As a side note, Dick's Sporting Goods bought Top-Flite from Callaway in 2012. Dick's also produces Maxfli golf balls after purchasing that brand from TaylorMade.
On the clubface: If there's any doubt about the difference a urethane cover makes, the Gamer Tour erases it. It's notably softer than the regular Gamer. That said, it's not as soft as other products in the "premium" category, such as the Srixon Q-STAR or Maxfli U/4. We debated over whether to label the Gamer Tour as "soft" or "firm," eventually deciding on the former due its feel with the putter.
Off the tee: Trade ionomer or surlyn for urethane and you'll often sacrifice a little distance for improved feel. We found this to hold true with the Gamer Tour, as have a number of other reviewers. The Gamer Tour isn't weak off the tee, mind you, but it was a few yards shorter on average than the Gamer when hit by the same player. Otherwise, performance was solid in terms of accuracy and trajectory.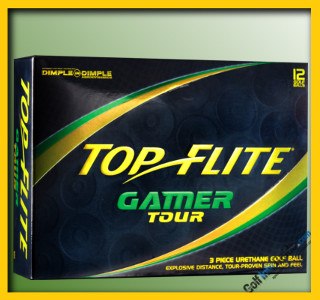 From the fairway / rough: Advantage, urethane – but only by a smidge. The Gamer Tour shows slightly more action with the short irons, occasionally backing up a few feet on soft greens, and quicker stopping power with the 5 – 7-irons. From light rough, the cover induces a mild "grabbing" sensation that's missing from ionomer and surlyn models.
Around the green: From the "broken record department"… We considered the Gamer Tour just a touch more responsive than its sibling on dainty shots from the collar, light rough or sand. It didn't rise to tour-ball standards, but checked up nicely on crisp pitches. Putts feel nice, provided you appreciate a combination "click" and "thump" off the blade.
Bottom line: If you're trying to decide between the Top-Flite Gamer and Gamer Tour, we'd break it down this way: The Gamer is longer off the tee and somewhat firmer feeling; the Gamer Tour offers more spin and versatility within 150 yards of the pin. We like both balls and consider them excellent values.
Value/Recreational/Distance – Designed for mid- to high-handicap golfers with swing speeds below 90 mph; typically feature two-piece construction and firm covers; promote greater distance over high spin rates. Examples: Pinnacle Gold, Slazenger RAW Distance
Premium – Designed for low- to mid-handicap golfers with swing speeds of 90-99 mph; typically feature multi-layer construction and medium-soft covers; "happy medium" between Value/Recreational and Tour categories for distance and spin qualities. Examples: Titleist NXT Tour, Callaway HEX Diablo
Tour/Advanced/Performance – Designed for low-handicap and professional golfers with swing speeds in excess of 100 mph; typically feature multi-layer construction and soft covers; promote greater spin rates and enhanced feel over distance. Examples: Titleist ProV1, Bridgestone Tour B330