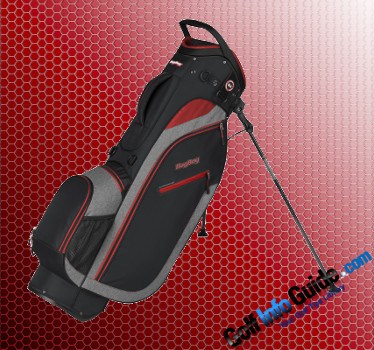 Photo Packaging Product Credit: ©Bag Boy Golf
The Bag Boy New TL retails for $159.99 (MSRP) and it makes for a very affordable mid sized lightweight golf stand bag, built and designed for carrying, riding or on a push cart. The Bag Boy New TL also offers plenty of storage space, due to its seven pockets, of which 5 are zippered, including an over-sized ball pocket, easy access mesh pockets, an insulated beverage sleeve, a full size garment pocket, accessory pockets and a water resistant fleece lined valuables pocket for your expensive items.
Also, the Bag Boy New TL comes with the company's proprietary TOP-LOK™ Technology, which allows you to securely attach your stand bag onto a push cart, lockable stand legs with slide resistant traction feet, an easy grip handle integrated into the bag's top, high density neoprene foam hip pad for added comfort while carrying, ergonomic double shoulder straps and a 10" 5 way top featuring full length individual dividers, to keep your clubs neatly organized and secure during your game. Finally, there's a rain hood included in the package, together with an umbrella holder and a towel ring featuring a Velcro glove holder. If you're looking for a nice, lightweight and durable stand bag, which is also comfortable to carry and has ample storage spaces for all your stuff, the Bag Boy New TL is definitely worth a look.