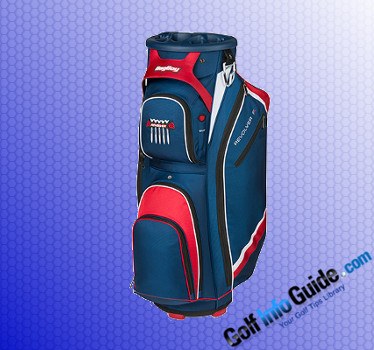 Photo Packaging Product Credit: ©Bag Boy Golf
The Bag Boy New Revolver FX retails for $219.95 and it makes for a premium cart bag, boasting plenty of storage space for all of your golf paraphernalia and being built with high quality materials and superior workmanship. The most interesting feature of the Bag Boy New Revolver FX is its 14-way multi material rotating top with full-length individual dividers, that allows you to find your favorite club easily, instead of searching for it. In order to keep your clubs from clanking, thus preventing them from getting scratched and taking damage, the New Revolver FX comes with the company's proprietary Clip-Loks system.
Arguably, the unique Revolver function (it really works like a turntable) of this cart bag makes for its best feature and main selling point, as it allows you to instantly grab that club that's always hard to reach in regular bags. The Bag Boy New Revolver FX is also very good looking, and the Clip Loks technology does an amazing job separating club heads and shafts. The New Revolver FX comes with plenty of deep pockets to store all of your golf gear, including a fleece lined valuables pocket, a ball sleeve, a cooler pocket for your beverage, together with a glove holder, a tee holder and a single carry strap, plus two external putter tubes. Bottom line, this cart bag is among the best around, combining innovative features with great durability and exceptional quality, all in a sleek and modern design.