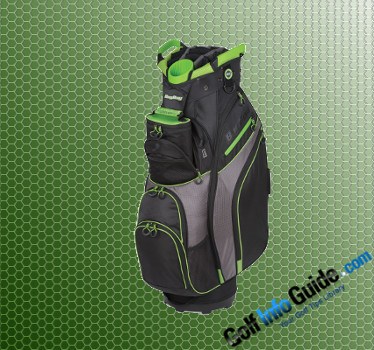 Photo Packaging Product Credit: ©Bag Boy Golf
The Bag Boy Chiller Cart Bag retails for $179.95 (MSRP) and it's built and designed to help with what some may argue it is the most important aspect of their golf game: the beer, obviously. The thing is, the Bag Boy Chiller, as per its name, features an awesomely large compartment, which harbors a removable cooler bag inside.
The respective cooler can keep up to six 12-ounce cans (of beer obviously) inside (or your favorite beverage, if you're not a beer-guy), perfectly safe and cool, hence making your game more interesting. With the beer problem sorted out, let's see about other features of the Bag Boy Chiller: this baby comes with a 15-way organizer top featuring full-length individual dividers and a grand total of no less than nine pockets, to carry all of your golf gear, which include an oversized ball pocket (you'll need a lot of balls after your fifth beer), 2 large side accessory pockets, 3 quick-access mesh pockets and a fleece lined valuables pocket. Finally, this baby comes with an innovative bag to cart system, which allows you to attach your cart bag onto a push cart, i.e. the company's patented Top-Lok Technology. Bottom line, if you're a golf aficionado who also loves beer, the Bag Boy Chiller cart bag should be on your short list.