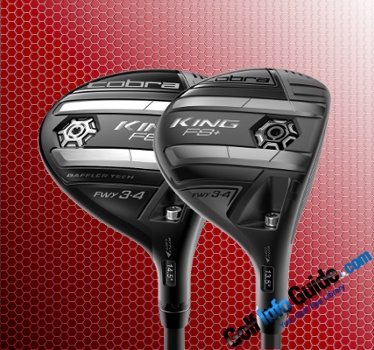 Photo Packaging Product Credit: ©Cobra King Golf
The new Cobra King F8/F8+ Fairway Wood retails for $249 (MSRP) and it's focused on players of all skill levels looking for maximum versatility in a fairway wood. The new F8 generation is staying on the same rails introduced to the previous F7 fairway wood, yet the rails are now larger and closer together, which, as per the company's stats, resulted in a 50 percent improvement in dispersion, and, very interesting, the rails work just as well regardless of what type of surface you're playing. The rails in the F8 fairway wood are also more centered either side of the center of gravity, so they enhance distance. In terms of adjustability, the company lost one of the weights, and now you have a lone weight in the back to tinker with.
The F8 fairways also lost weight, due to the lack of the second front weight port, but also thanks to a new carbon fiber made crown, which is now 20 percent lighter than F7's steel one, weighing a mere 12.6 grams and moving the center of gravity lower compared to the previous generation. Due to its lightweight design and explosive E9 stainless steel face, the Cobra King F8 fairway wood packs a lot of power and it offers real value, considering the price tag. The new rail design which has the CG centered between them improves forgiveness by reducing twisting, and also helps with maintaining head speed, which is helpful especially on heavy strikes. Pound for pound, the Cobra King F8/F8+ drivers are among the best on the market today, offering excellent feel, great flight and premium looks, features that will definitely make them a popular choice in 2018, considering the awesome combo of rails and carbon fiber crown.