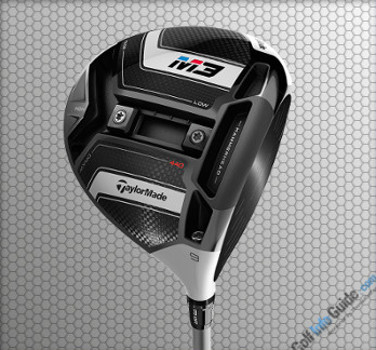 Photo Packaging Product Credit: ©TaylorMade Golf
The TaylorMade M3 and the M3-440 Drivers are pretty much identical in terms of look at address and technologies incorporated into their built. Also, they both sell for approximately $500, street price. The only difference between the two is the volume of the clubhead, whereas the regular M3 has 20 more cubic centimeters in volume, i.e. 460 cc, while the M3-440 is a tad smaller, standing at 440 cubic centimeters (hence its name). Now, when it comes to technological breakthroughs, the Taylormade M3 driveris nothing short of impressive, making for the arguably the best driver ever made by the company. Forget about the Taylormade M3's stellar adjustability options (almost 13,000 adjustable settings) and its off center hit stability which is absolutely outstanding. This baby feels fantastic and it may be the best driver ever created (by any company) in terms of performance, bringing forgiveness, distance and adjustability in one single package, which also looks awesome. In terms of looks, the Taylormade M3 marks for an improvement over the previous M1, boasting a premium design and feel thanks to its mate silver colorway.
The state of the art carbon-composite made crown and sole also add to that futuristic/high tech feel. Underneath these shiny clothes lies the Y-Track, which adds even more to the driver's customization possibilities. However, what's most important in the new Taylormade M3 driver is the latest-gen Twist Face technology, which is aimed at minimizing off center hits, thus allowing the player to hit longer/straighter shots, due to the driver's bigger sweet spot. However, the Twist Face is not the only state of the art technology in the M3 driver. Say hello to the Hammerhead face-slot, which drops unwanted spin as it protects the ball, the Y-shaped weight track I already told you about, which further helps with personalizing the driver, not to mention improved aerodynamics due to the five-layer carbon crown. The Twist Face tech works together with the Hammerhead slot and the Inverted Cone technology, and the end result is dramatically improved ball-speed across a wider area of the face. Bottom line, the Taylormade M3/440 drivers are quite impressing, to say the least, providing golfers with unmatched speed and distance, along with fantastic adjustability options, everything aimed at maximizing performance.