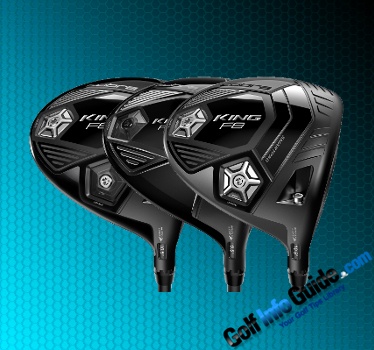 Photo Packaging Product Credit: ©Cobra King Golf
The new Cobra King F8 drivers retail for $399 (MSRP) and they're built and designed to be long and forgiving, as the company employed its latest and greatest technologies in order to mark a clear improvement over the previous generation (F7). And yes, they did it with flying colors, as the new F8 drivers are a definite improvement, a tad softer, yet more responsive across the face, thus boosting confidence. The company focused on both distance and accuracy in their latest F8 series by using new technologies and a very high-tech design to deliver state of the art/premium drivers, that more than hold their own. The F8 series's most important feature is their new CNC milled face, which allowed the company to keep face thickness consistent. Another interesting feature is the Aero 360 technology, which makes the driver's head more aerodynamic, thus adding more distance by increasing club speed. The Aero 360 gizmo consists of polymer crown trips added to the crown, and also titanium trips added to the sole. This technology not only looks futuristic, i.e. it has a significant visual presence, but it also has a performance benefit, as it increases speeds.
But don't worry: even with these new textures added, the F8 drivers look smooth overall. Just like the previous generation, the Cobra King F8 drivers series boasts amazing sound and feel, which may very well be their best to date. It's worth mentioning that the new E9 face maintains that solid feeling we all know and love, while being fairly forgiving. The CNC milling technology also plays a role in that forgiveness, thanks to its consistent face thickness. However, the bread and butter of the F8 series is represented by their adjustability options, as the company preserved the swapable weights that permit you to modify/adjust the center of gravity, depending on your preference. These drivers also feature Cobra Connect powered by Arrcos, i.e. shot tracking technology seamlessly integrated into their grips. This technology provides golfers with the ability to collect various stats (automatically), like average driving distance, longest drive, the number of fairways hit and so forth and so on. Bottom line, the new F8 generation comes with lots of bells and whistles, but they're also reliable performers, boasting lively and forgiving CNC milled faces, with awesome sound and feel, which makes them some of the "can't miss" drivers for this season.